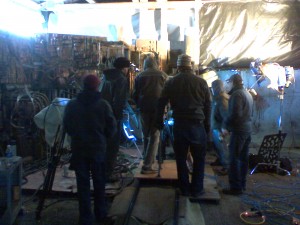 shooting The Order in the freezing cold

This isn't new, but here's a link to a trailer for The Order that I worked on a while back up in Bellingham. It was directed by Lars Simkins, the VFX guy for Handcrank Films up there in bham. Also check out the top video here, which has some before/ after green screen stuff (at about half way through) so you can see what we actually shot vs. how it looks after Lars worked his magic on it.

If you're wondering where you can see the feature, you're out of luck. We only shot the trailer.