Doppler waiting for Sue Bird at Sea-Tac

Couple of my videos up online this week. The first is a Doppler Skit I shot a couple of weeks ago, where Doppler goes and greets Sue Bird at Sea-tac. It's not the greatest thing I've ever shot (some seriously bad audio throughout the whole thing), but it got some pretty good laughs when it played in-arena at the Storms pre-season game. Some of the footage I shot that night also aired on King 5 the next evening.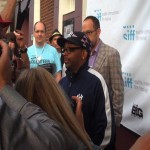 Spike Lee at the Egyptian

The other is a CHS article/video of Spike Lee. Spike Lee was being honored with the Golden Space Needle Award at SIFF, so I went and shot some video. The event was pretty dissapointing overall, terrible questions from the moderator and audience lead to a pretty boring couple hours... as you can read about in the comments
.